---

Location
C. de Berlín, 2, 03503 Benidorm, Alicante, Spain
Project
Co-promotional Partnership

Tourist Route Design

European Campaign

Adventure Tourists
Countries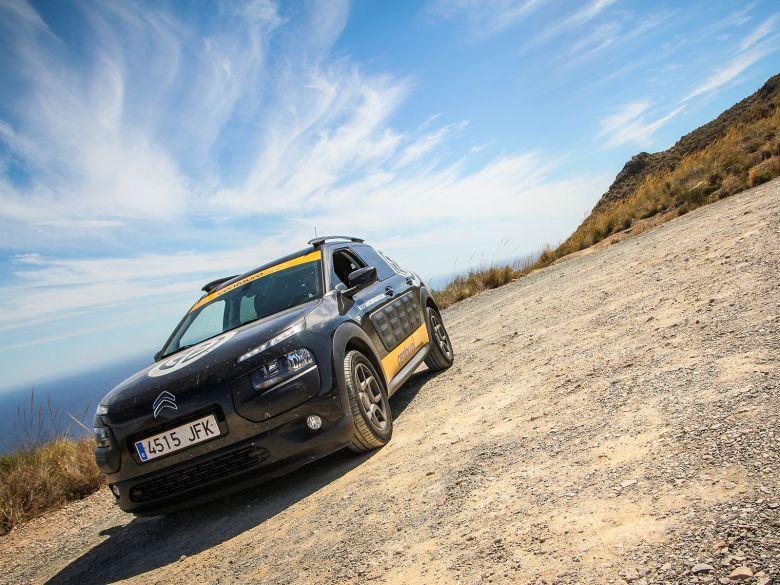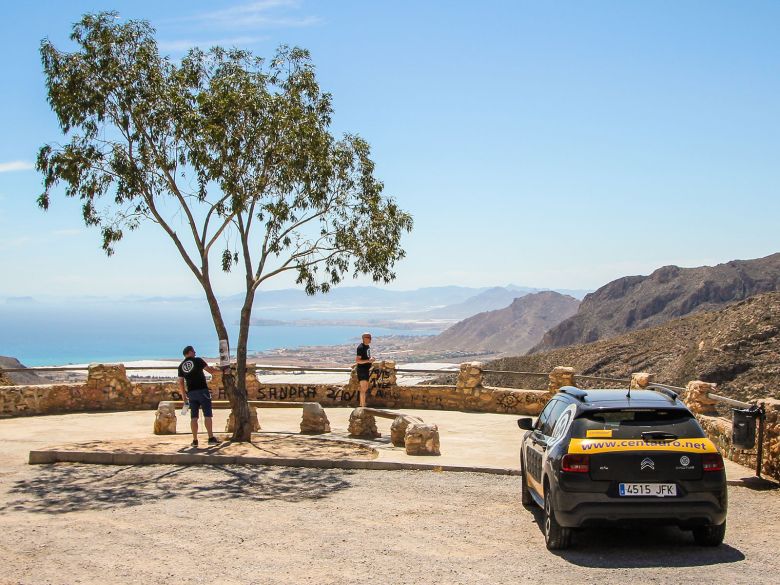 ETR ROAD TRIPS WITH CENTAURO

Want to go travelling with your group of friends, but they don't ride motorcycles? They can just rent a car from CENTAURO, and carry all the luggage, supplies, food, water, tents, sleeping bags and petrol, and join the ride!
After many years of touring and travel on motorcycles, on snowmobiles, road trips in cars, in camper vans, boats, trucks and other vehicles, you learn a couple of things.. The quality of the experience, and a lot of the fun, depends on the people that are with you on the road. Their personalities, good humour, high spirits, sense of adventure, level of activity, and thirst for new experiences, all contribute to a unique and memorable road trip - whether it's on motorcycles, in cars, on snowmobiles or mountain bikes.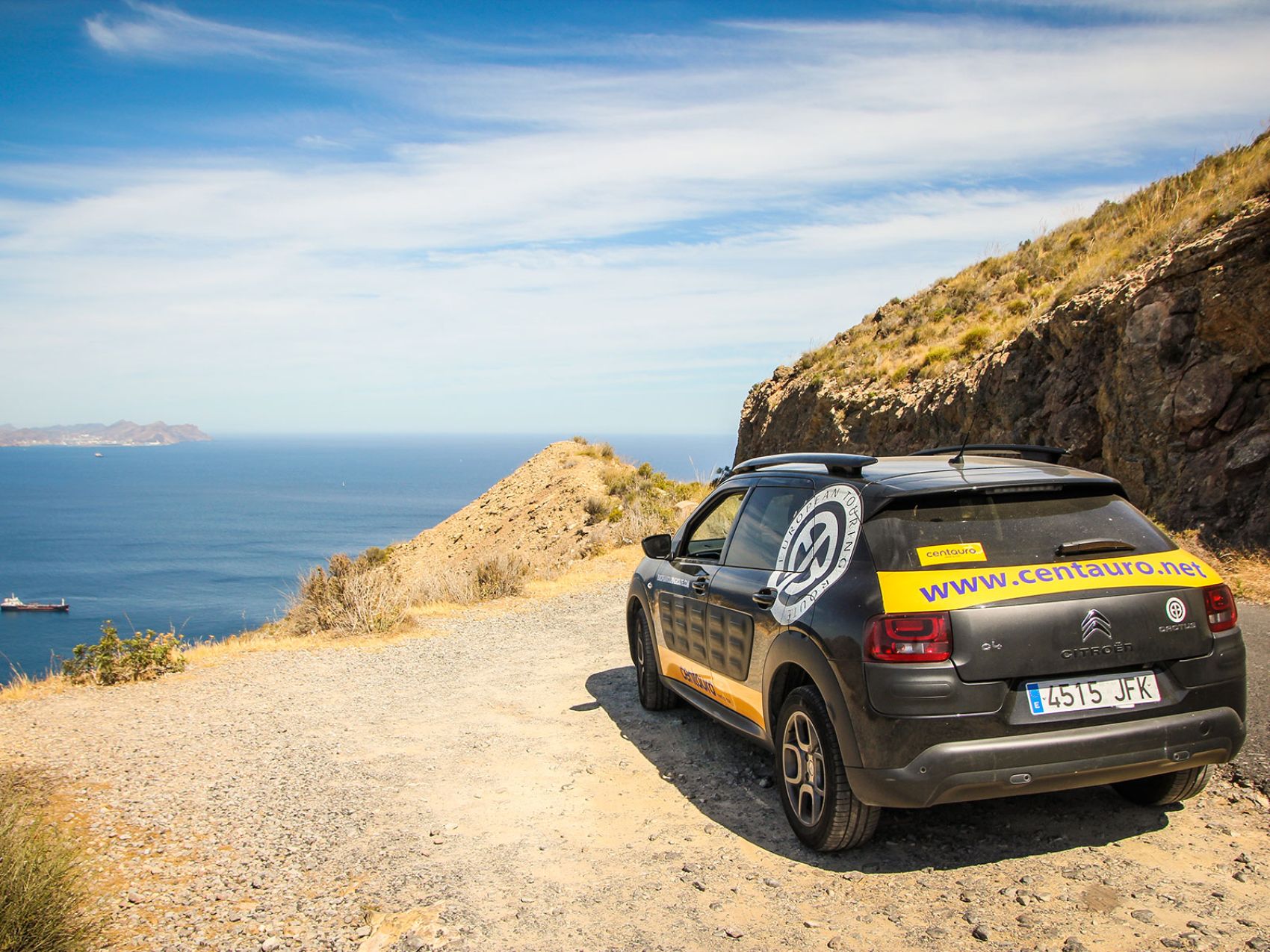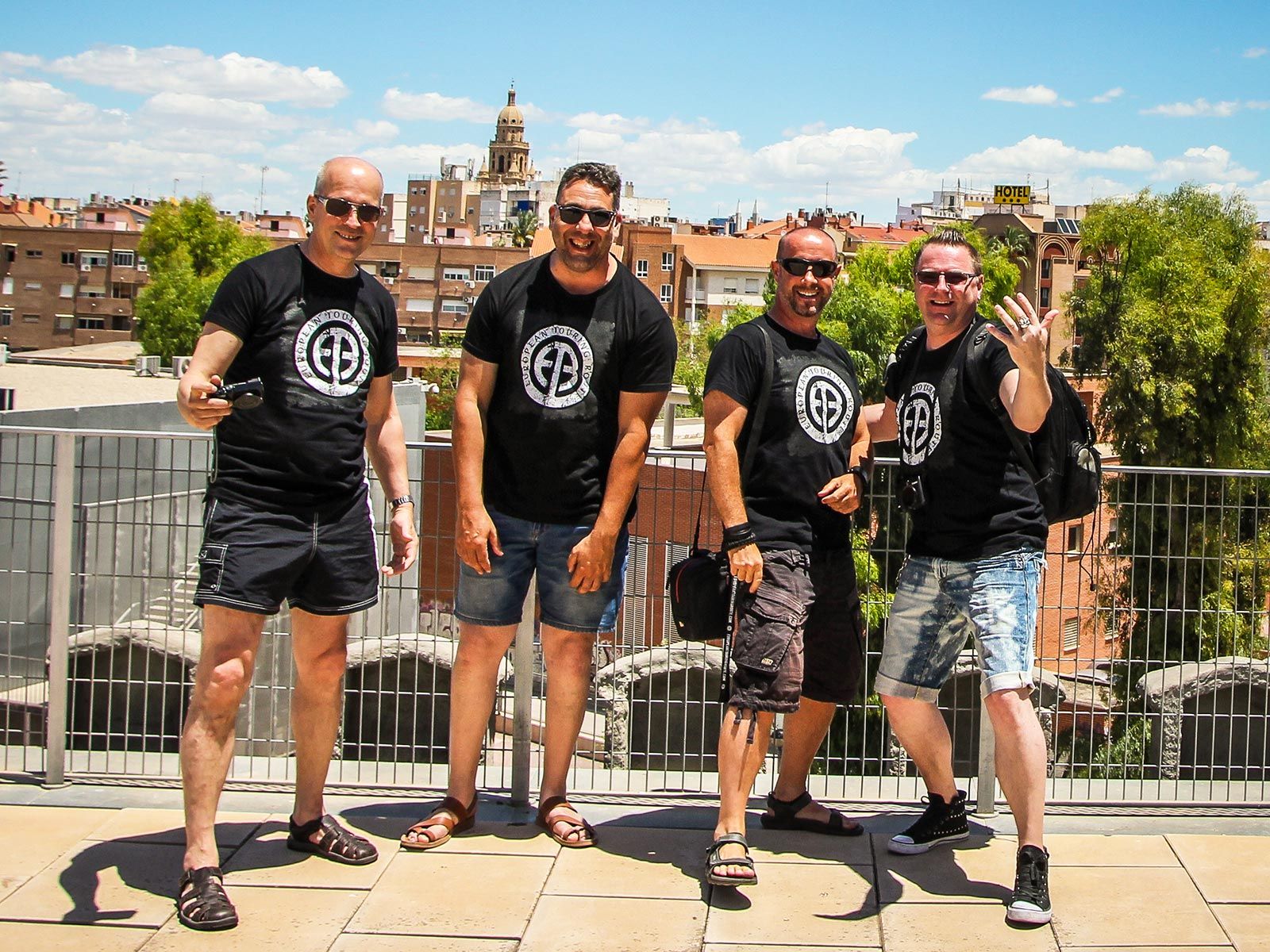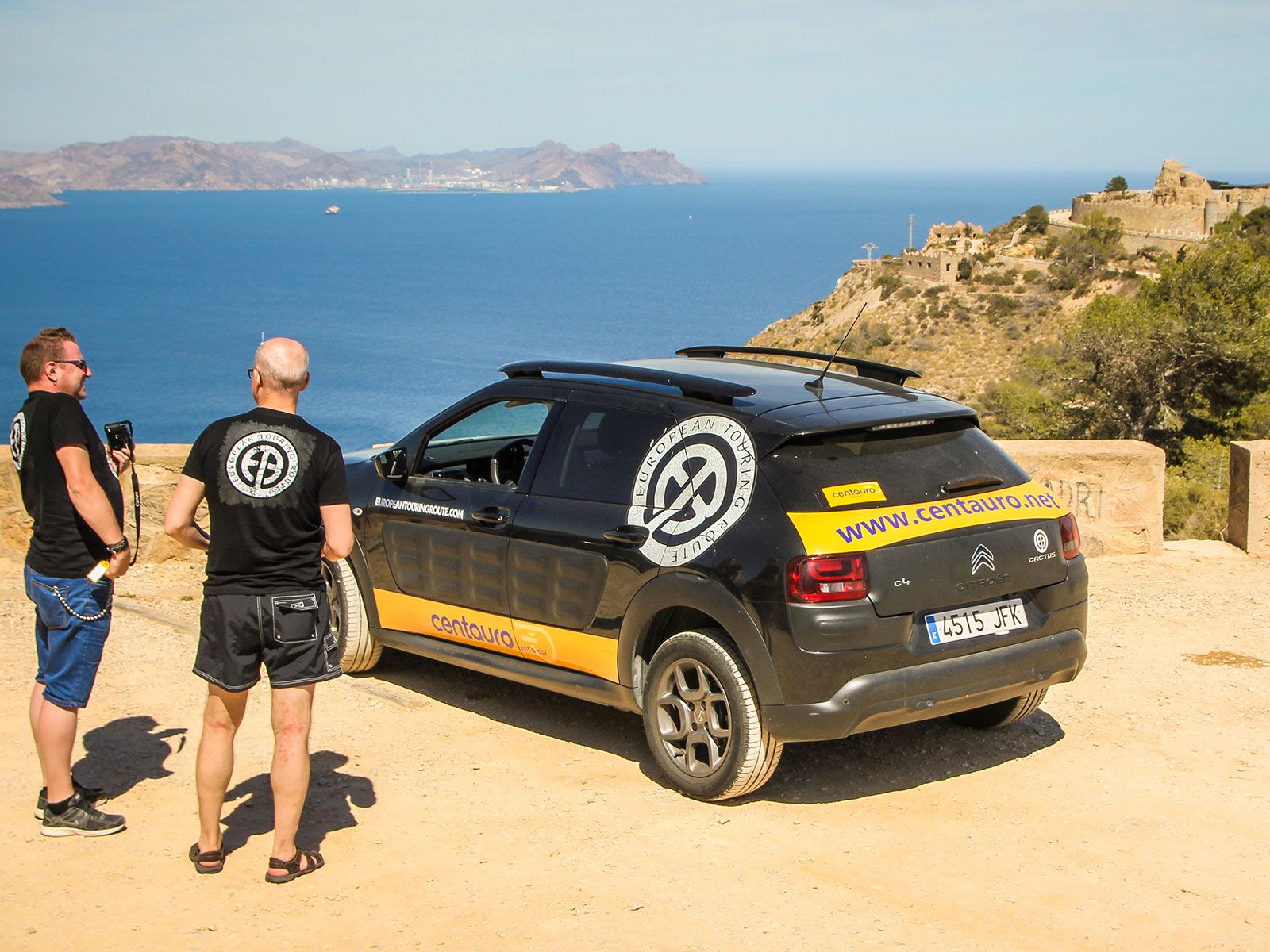 We always rent Centauro cars when we're in Spain or Portugal, for ETR Tours, ETR Events, and for researching new routes, locations and destinations. We also use Centauro cars as tour support vehicles on longer sections of the ETR, where we rent them in one location, and deliver them back in another. This gives us greater flexibility when it comes to riding and driving different sections of the ETR with tour groups.
On one of our recent research trips in Spain, we used this practical combination of cars and motorcycles, to test out the roads and routes, to transport some of our equipment, to meet with new partner companies, sponsors, clients, and to research new locations and venues for ETR Events.
The combination worked very well, where the heavy equipment could be transported safely in the cars, freeing up the riders to enjoy their motorcycles in this magnificent landscape. It also meant, that riders could take a break after a long day of riding, and let someone else ride that motorcycle for a few hours, while they take some photos and document the good roads and locations, from inside one of the cars.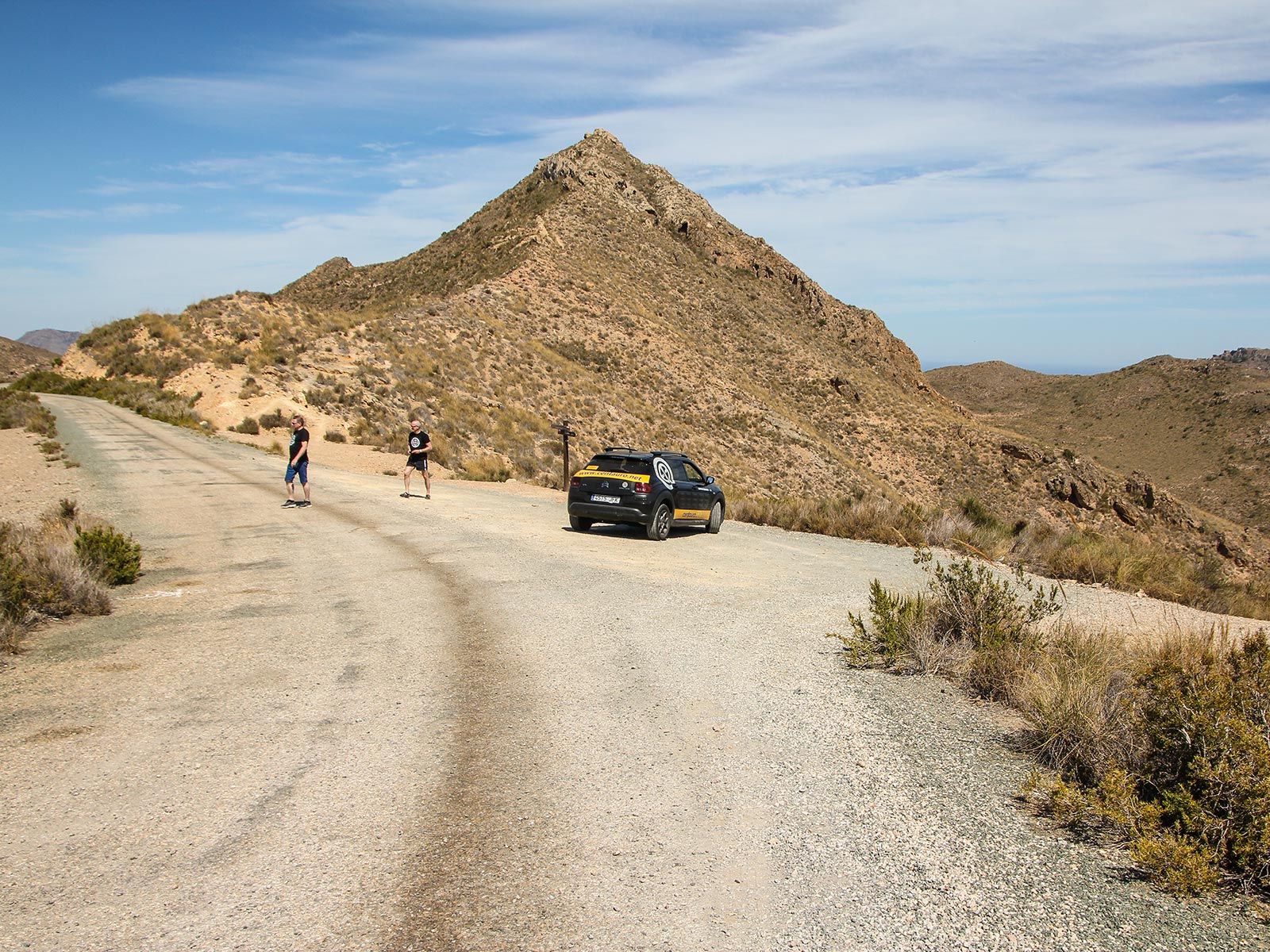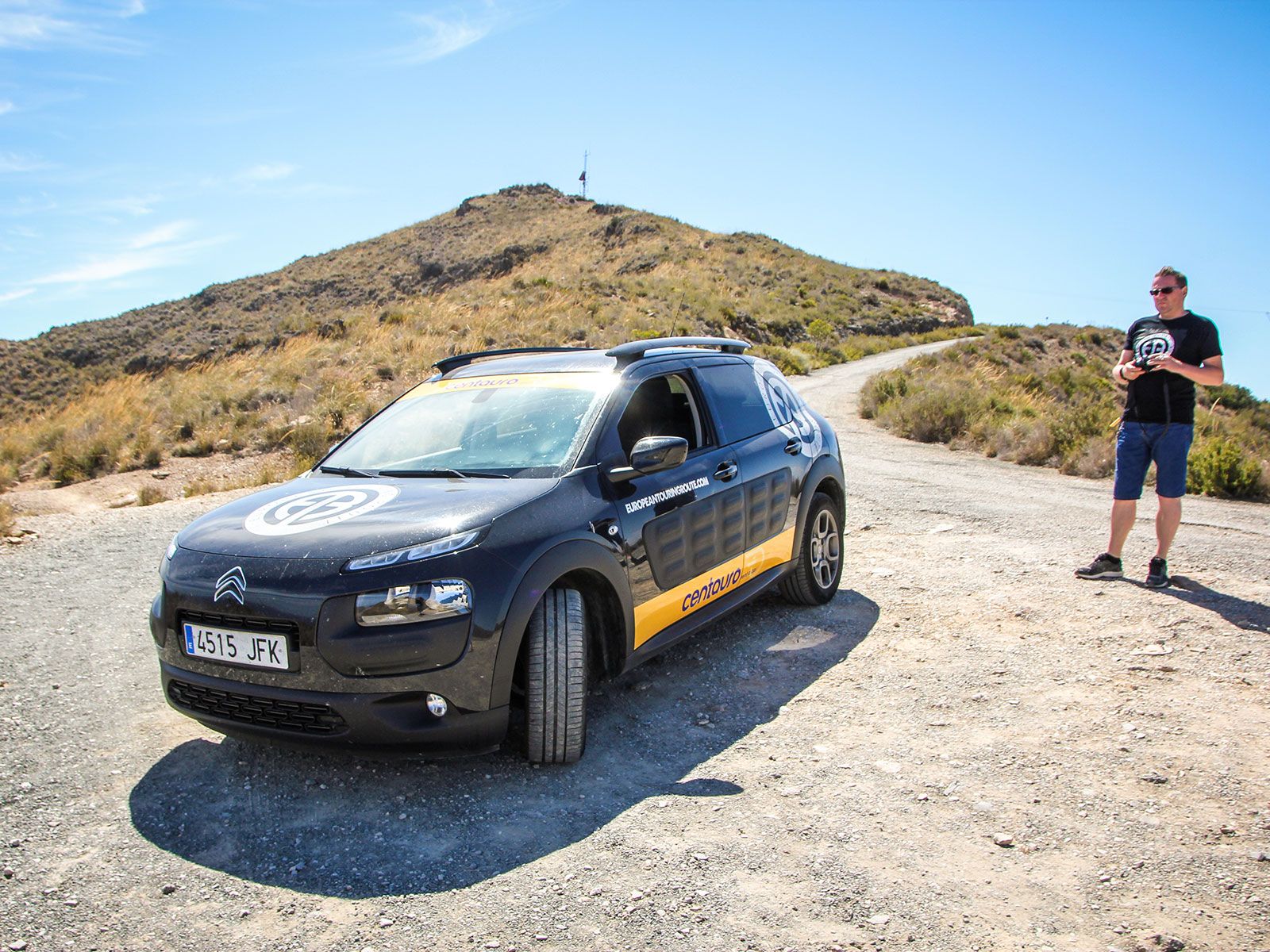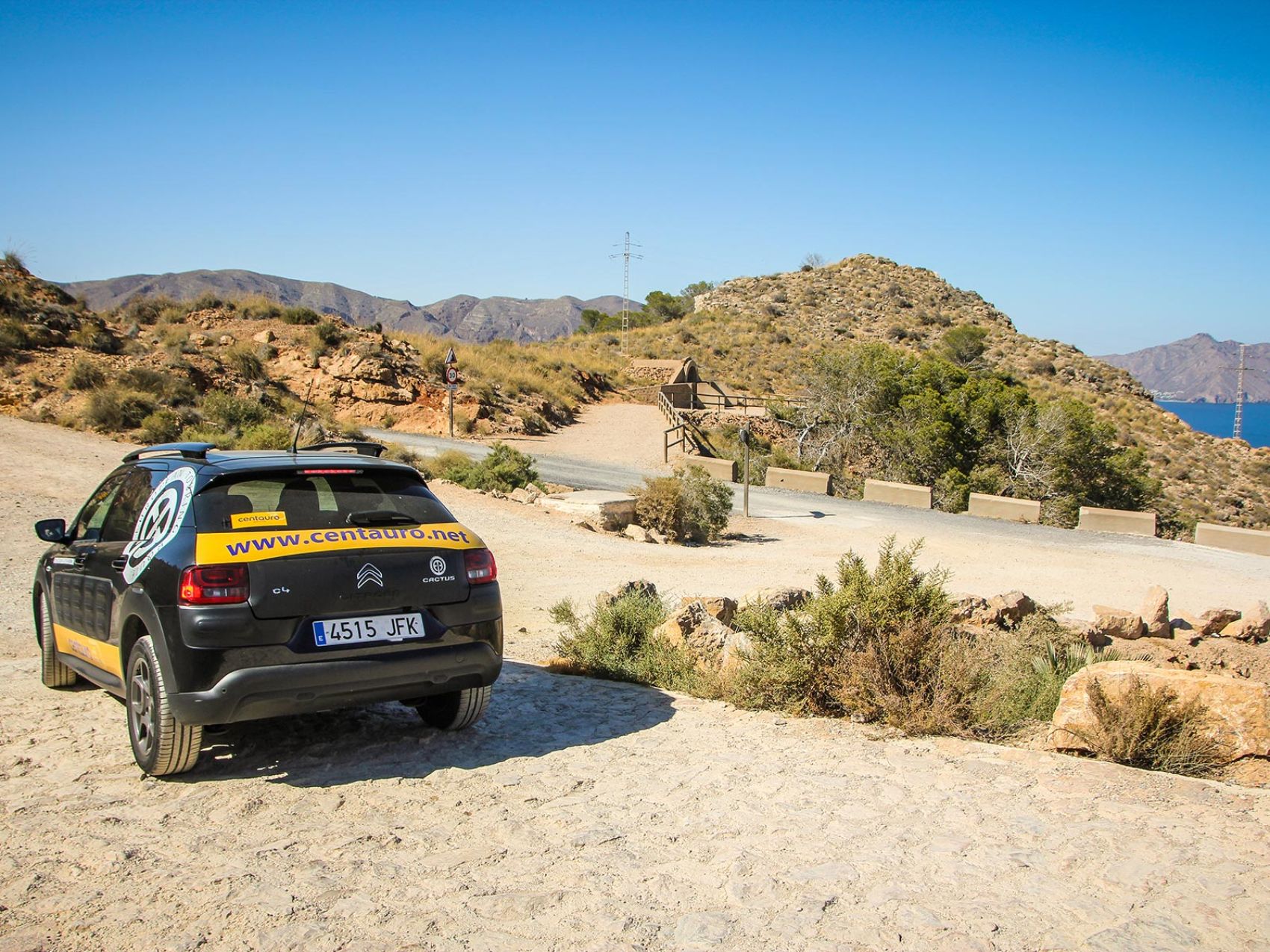 We also wanted to test the dynamic of travelling with a convoy consisting of cars and motorcycles, in relation to distances, travelling speed, location tracking, decisions and communication between cars and motorcycles, in the different types of terrain and landscape that southern Spain provides you with.
Most of the time, the group didn't travel together, as the motorcycles were better able to take advantage of the offroad conditions in the desert and mountains, on tracks that cars couldn't follow. We also had a lot of meetings lined up in different locations, so we arranged to meet at specific points in time throughout the trip, giving the motorcycles the freedom they need, while the rest of the team could work from the car, at the same time.
We tested the cars and bikes in many different situations and conditions, from the dusty desert region around Tabernas, to the densely-forested high roads and snow-capped peaks of the Sierra Nevada, to the warmer coastal roads from Alicante to Gibraltar, to Cadiz, then back via Ronda, Malaga, Granada, Almería, across the "Spanish Stelvio" at Alto Velefique, through Lorca, and along the backroads back to Murcía.
Riding and driving on-road, offroad, through forests, on racetracks, mountain paths, over spectacular bridges, through tunnels, interesting old cities, beautiful coast roads - and no motorways - we managed to pack a lot of great experiences and meetings, into seven full-on days of driving / riding / hiking / talking / walking... and more driving.
Project Partners
Project Team
Juan Carlos Barceló Palacian

Hallgeir Strifeldt

Robert Solheim

Ingo Vogelmann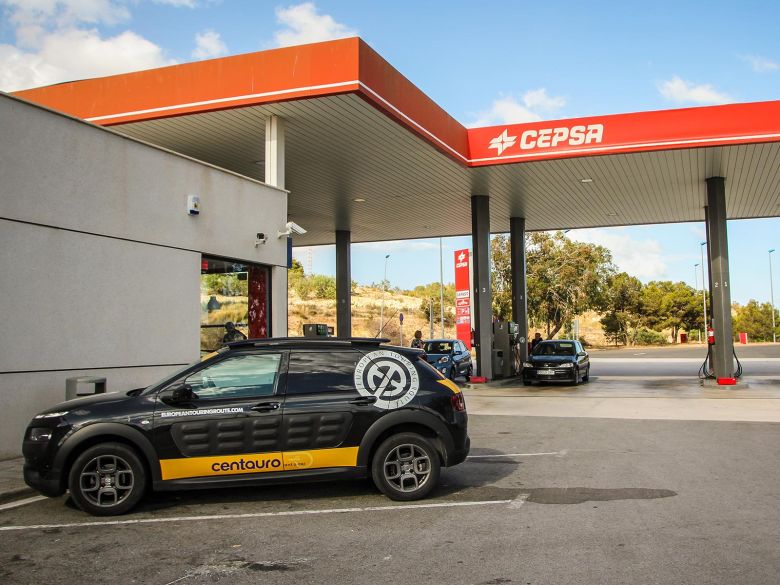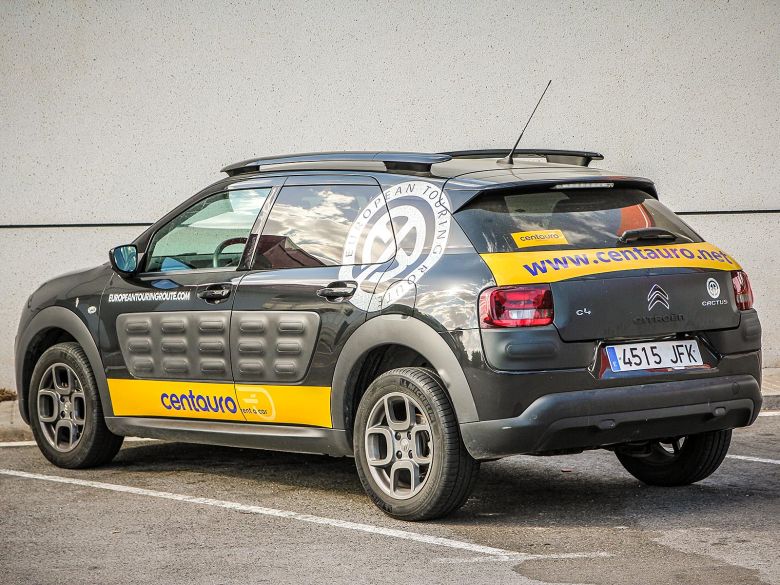 "FLY // DRIVE THE ETR YOUR OWN WAY"
If you want to FLY // DRIVE the ETR, you can land at one of the main airports in Spain, collect the car from the Centauro rental office, and you can be out on the road in no time. For those of you flying in from America, Australia or Canada, you have the option of renting an automatic, if you're not used to driving "stick", as we do in Europe.
Whether you need a holiday car, convertible, family car, cargo van, or a 7 or 9-seater people carrier, Centauro Rent a Car has an extensive fleet of vehicles which they renew each year, updating their range with the latest models. The range includes luxury, intermediate, standard, and economy cars, and at the moment, Centauro has over 12,000 vehicles in circulation, serving the leisure and business sector. If you need a larger vehicle with more space for transporting goods, then choose one of their many cargo vans.
Centauro Rent a Car is located in the best destinations in the Spanish territory, and from Centauro rental offices, you can explore the Costa Brava, the Costa del Sol, Costa Blanca, Costa Dorada, Costa Calida, and the Balearic Islands. Spain has everything, whether you are looking for beaches, stunning landscapes, interesting places steeped in history, art and culture, architectural heritage, or new gastronomic experiences!
Some of the most popular Centauro car rental locations in Spain include: Alicante, Almería, Girona, Barcelona, Madrid, Malaga, Murcia, Valencia, Benidorm, Torrevieja, Seville, Jerez, Granada, Reus, Lanzarote, Tenerife, Menorca, Palma de Mallorca, Gran Canaria, and Ibiza, and you can usually find a Centauro rental location at the airport you land at.
Book in advance to get the car you want, and to save time when you arrive, so you can get out on the road, and soak up the Spanish sunshine.