European Bike Week, Austria
---

Location
Faaker See, Villach, Austria
Project
Travel Marketing Campaign

Destination Marketing

Business Networking

Client Entertainment

Experience Design

Integrated Routes

Global Campaign

ETR Merchandise

ETR Experiences

ETR Destination

ETR Travel Hub

ETR Partners

ETR Summit

ETR Sites
Event Partners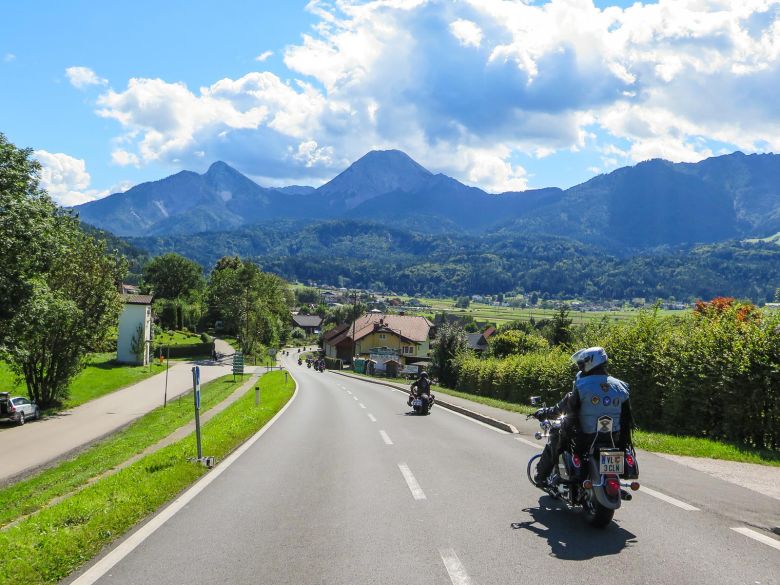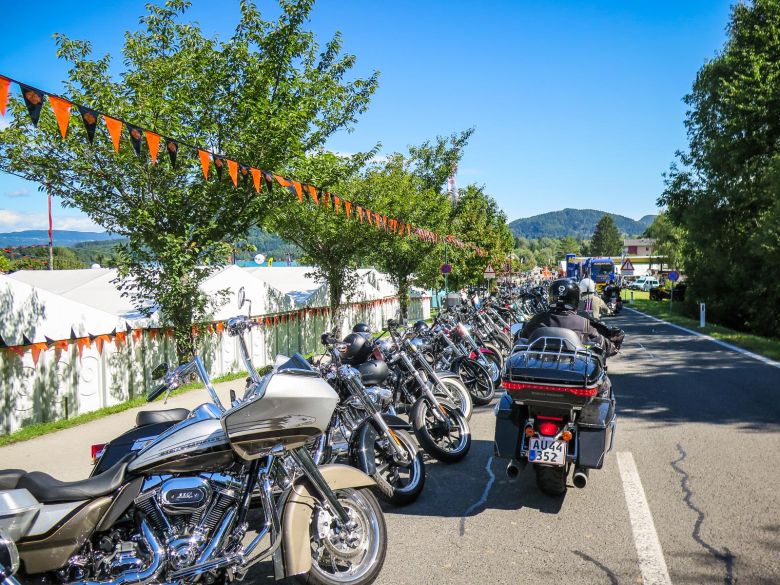 Carinthia is Motorbike Heaven
Every year, the Austrian region of Carinthia attracts over 120,000 motorcyclists from all over Europe, and the noise and vibrations produced by these many thousands of beautiful motorbikes rolling by is truly an astonishing experience for both the riders and the spectators.
But what makes over 400,000 visitors head towards the bottom of Austria once a year? Where do they all come from? And how can they possibly pass the time for six days here? The questions are many... The answers are 'everywhere' and 'easily'.
European Bike Week has evolved over two decades into the largest motorcycle event in Europe. The Austrian region of Carinthia invited Europe's motorcyclists in from the cold, offering good accommodation, great logistical conditions and a large area for the rally. Europe suddenly had its own folk festival for motorcyclists. The event has been held every year as an example of great organizational skill, and everybody returns home with really good experiences.
In the first year, it was Harley-Davidson, which took centre stage. It probably still is today, but to a lesser extent. For the last number of years the event has been open to all motorcyclists, and today, all motorcycle brands are represented here. Both those you know, and those you don't. The motorcycle lifestyle is being well and truly looked after here in Austria.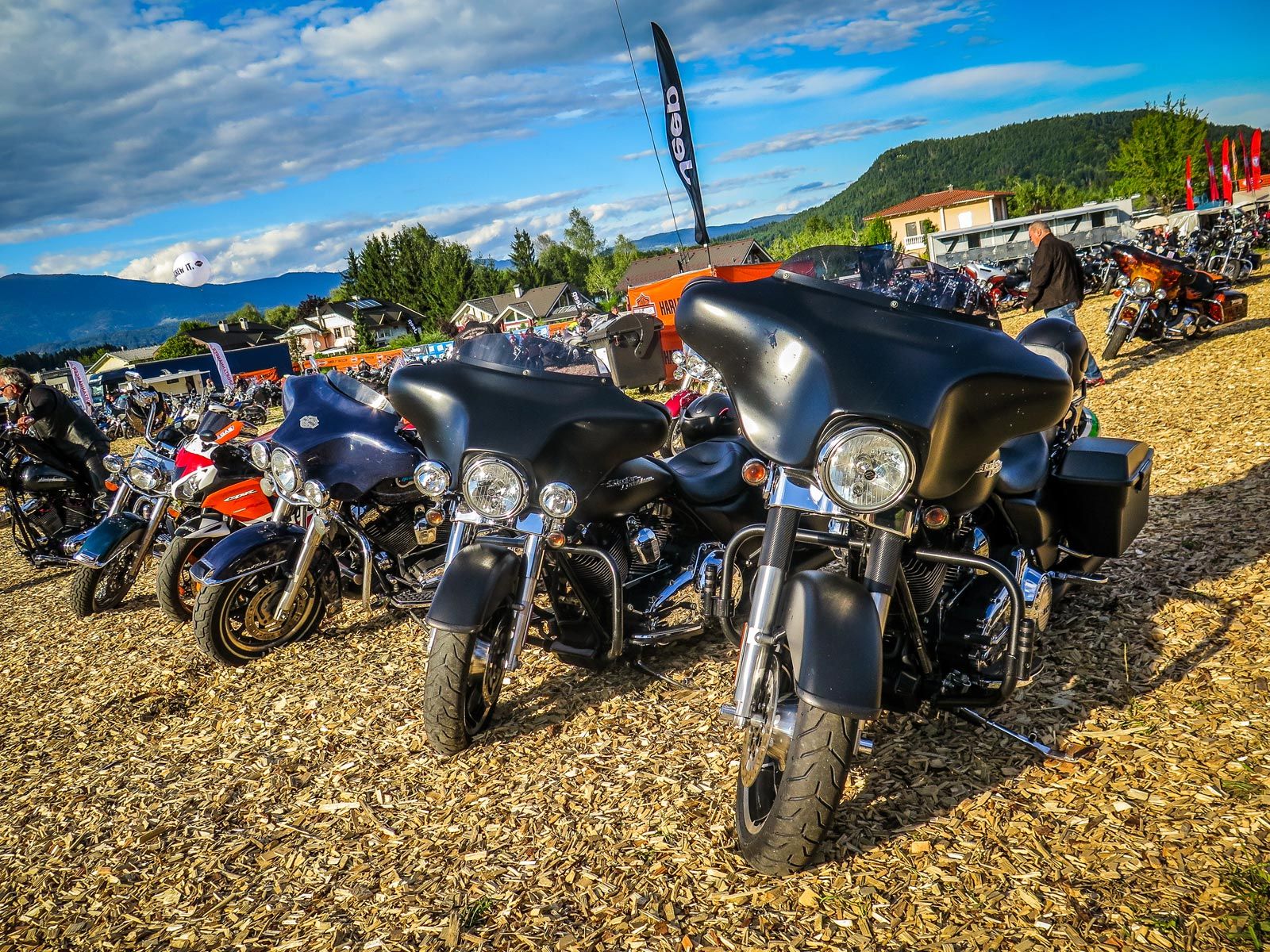 HARLEY VILLAGE - OFFICIAL HARLEY-DAVIDSON TOWN
In the European Bike Week Village you can find the annual Harley-Davidson exhibition. Harley Village is the official tent-arcade, where you can spend yourself penniless in a few hours, or less. The area is large, and there are plenty of beer taps and music tents where you can quench your thirst and reduce your appetite, as you float about in this luxurious atmosphere. 
The products lining the shelves of the authorized Harley-Davidson dealers in the village are not cheap, but there are still plenty of customers at the sales desks. Everyone has to have a souvenir from the 'rally in the village', where you can buy everything your heart desires.
Some of the top motorcycle brands create their own official hotspots around Harley Village, where you can view the new range of motorcycles, and meet friendly Harley-Davidson specialists who can help you choose your next motorcycle. The on-site experts can provide information on everything, arrange for a test ride at a local dealership, and provide you with information on the best possible financing options, also.
The event's extended program features so much more. You should check out the custom bike show, the biker build off, take some demo rides, and immerse yourself in plenty of good music, food, beverages and other entertainment. For Harley fans without a motorcycle license, you can enjoy the adventure of a ride in the special Harley-Davidson simulator.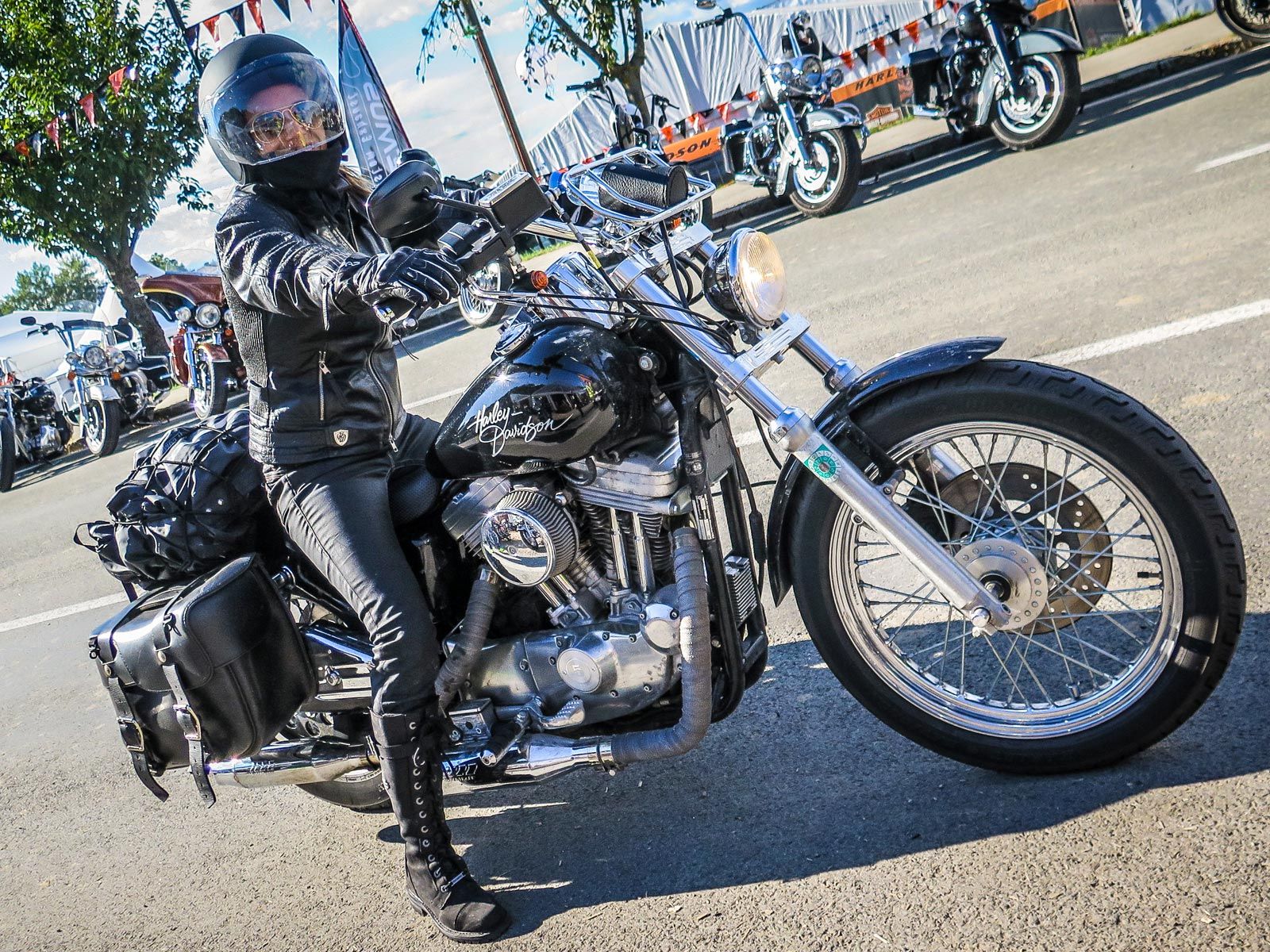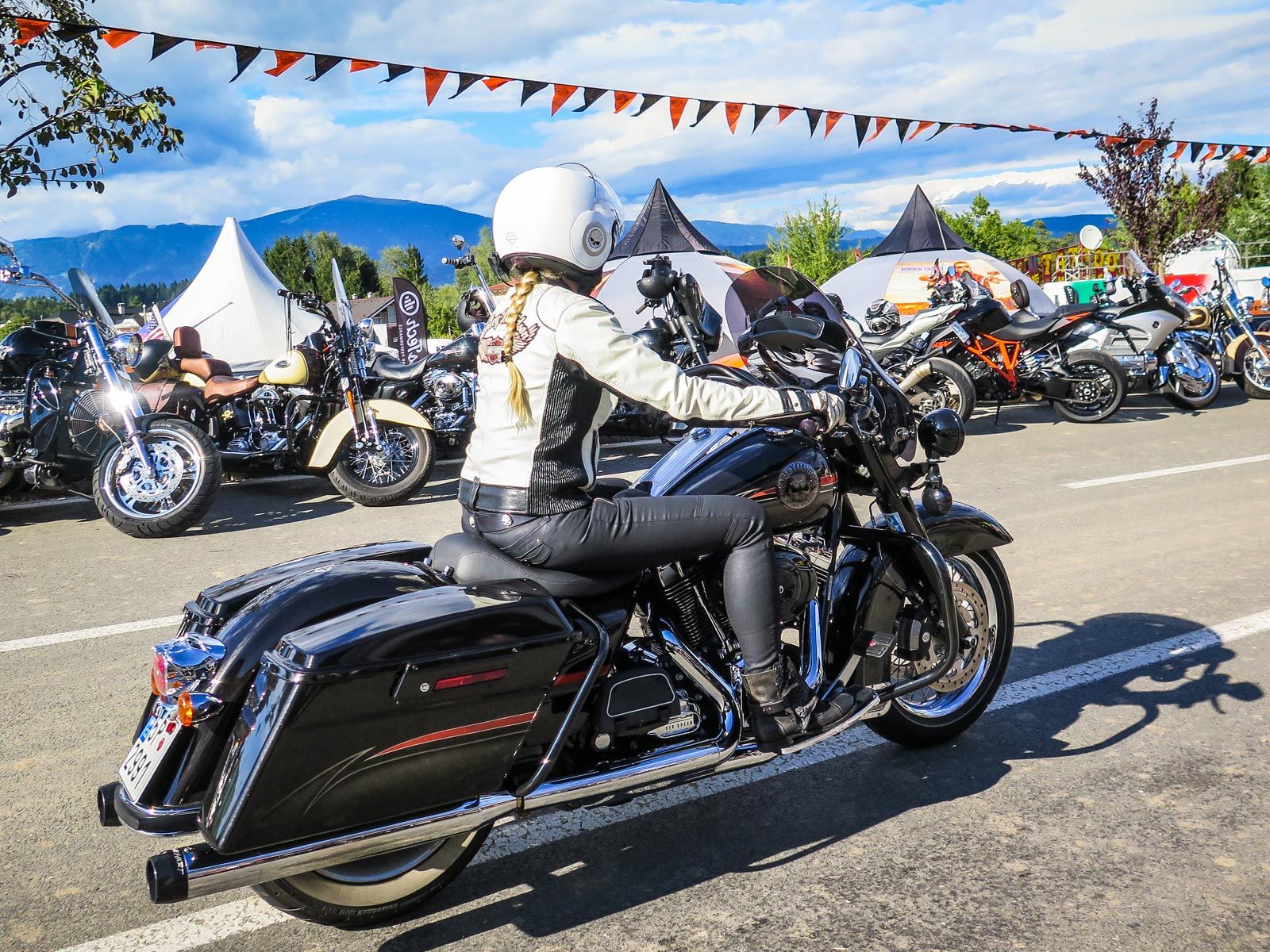 TAKE A RIDE AROUND FAAKER SEE
If you have not been to European Bike Week before, it can all seem a bit overwhelming. What should you to do if it's the first time you're here? Where do you go? Where are the good places? What should you focus on? Where's the best party?
The best thing you can do, is get on your bike and take a ride around Faaker See, and just see what happens. Take it easy, take it all in, because the first time you're at European Bike Week you won't get see it all, anyway. 
If you're the type who likes a cold beer in the summer heat, then just let the bike rest wherever you're staying. There are many police in the area, and they don't hold back for lawbreakers, so don't drink and ride!
It's actually really nice to just walk around and enjoy all the amazing machines. Often, you land in a relaxing atmosphere at the small cafes, and just sit and watch all the motorcycles and leather people floating by, in the summer sunshine.
ETR Team
Hallgeir Strifeldt

Juan Carlos Barceló Palacian

Robert Solheim
MBE Team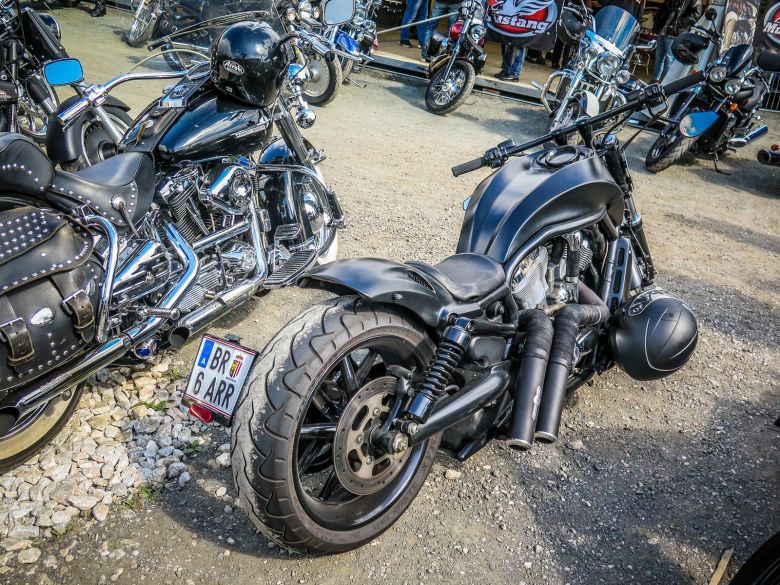 LIFE IS GOOD AT CAMPING ARNEITZ
Camping Arneitz is another small town, situated close to Harley-Davidson Village with plenty of beer taps and music tents. From Harley Village, which is the official Harley-Davidson part of the event, you can drive down to the Arneitz Camping ground. If you like camping, this is the place for you.
Arneitz has become just as large as the official Harley-Davidson area, and is a festive place with a broad diversity of entertainment and nightlife, and must be experienced both day and night.
From Arneitz, you can drive further around the lake, until you come to the Free Biker Village. As with Arneitz, there's also an unending supply of fun and entertainment here.


JOIN THE SUNDAY PARADE
The 20-kilometer parade is always the crowning finale to European Bike Week, and the greatest allure of the event. The Harley Parade is an expression of joy and exuberance, and it's quite amazing to see how much fuss people can make out of themselves and their motorcycles. 
The preparation for the parade starts at 10.00 a.m. at Faaker See Ufer and the parade itself starts at 12:00 a.m. It continues through the town centre of Villach, along the northern shore of Lake Ossiach to Feldkirchen, Ossiach, Wernberg and Velden am Wörthersee, and back to Faaker See.
The parade has grown so big that it now takes over an hour for it to pass through the small towns along the route. The Parade is not only a spectacular event for Harley fans, but it also captivates the hearts of other holiday makers and local residents.
As a motorcyclist, you must experience this rally at least once in your life.
And if you've been there once, you'll definitely be back again sometime. 
See you there!